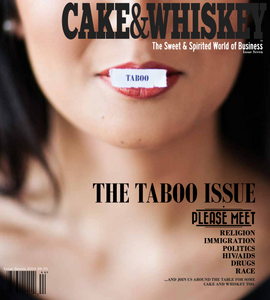 This product is a PDF digital download of issue #7 of CAKE&WHISKEY Magazine, originally published in 2014. Once purchased, you will receive a link with access to the download.
In this Issue:
The Taboo Issue is CAKE&WHISKEY's juiciest issue yet. We say goodbye to proper small-talk etiquette and explore religion, politics, race, HIV, sex, immigration, marijuana, and alcoholism. We dig deep into the journeys of the amazing women behind these cultural taboos, doing great work in their fields despite the risky nature.
Member of the Navajo Nation Council, and the current Apache County Recorder, LeNora Fulton
Brian Hersch, Founder of the Board Game, Taboo
Conflict Kitchen; a take-out restaurant that serves only ethnic foods from countries with which the United States was in conflict
Immigrant Educator; Kendra Montejos
Camelle Daley, Designer of Clergy Dresses and founder of House of ilona
Krista Tippett; American journalist, host of On Being, and winner of the National Humanities Medal
Maria Mejia; activist and HIV peer educator
Candan Yazar, Turkish representative at three International Conventions of Alcoholics Anonymous and author of The Journey Home
Queen of Cannabis
Trailblazer Marian Anderson, sang her own rendition of "My Country, 'Tis of Thee" on the steps of the Lincoln Memorial on April 9, 1939
Also… Confronting (and Overcoming) Financial Illiteracy, Why You Should Fire Your Lawyer, How To Speak Your Mind About Tough, Taboo Topics (And Still Have Friends), Breaking Down Barriers To Women's Entrepreneurship,
And…a recipe for  Jameson Whiskey and Pear And Ginger Coffee Cake and a Beautiful Little Fool
About CAKE&WHISKEY
In 2012, CAKE&WHISKEY; The Sweet & Spirited World of Business began with a small group of women, gathering together to eat cake, drink whiskey, and talk shop. Eventually, those hobnobs would grow to 12 cities, and eventually, the first issue of CAKE&WHISKEY Magazine was released in 2013. The magazine eventually landed in every Barnes & Noble across the US and in the mailboxes and store shelves in 11 countries. Today, CAKE&WHISKEY hobnobs still happen, in cities from Baltimore to Greenville. The mission remains the same as it did on day one. 
The CAKE&WHISKEY woman is someone who exudes an inner passion for something beyond mediocre~ beyond the rules established in business and life. Who looks at obstacles as stepping stones and setbacks as learning curves.
She radiates inner beauty... poise, lightheartedness, and relatability. Whether toasting a dram of whiskey with clients or swapping stories with a girlfriend over a slice of cake, she feels comfortable in her own skin.
She is far more interested in another's story... than her own. Knowing that she will glean wisdom from everyone who crosses her path. Thriving off this insight, she is constantly fueled to reach farther and dream bigger.
She wears many hats... not because she's out to prove a point, but because her curiosity for life and limitless boundaries make her a better businesswoman, partner, colleague, mother, daughter, and friend.
She is a forever student... persistent in reaching the mark. Considering both failure and success as part of the course curriculum.
She's a creator... developing ideas that have enduring value. If it can be imagined, it can be created.
She's an explorer... who wants the freedom to experience and to help people differentiate themselves.
She's a warrior for causes... both empowered and sympathetic. Who accepts others on their journey, without judgment. She seeks to mentor, support, and champion~ never undercut or shame.
She's an original.