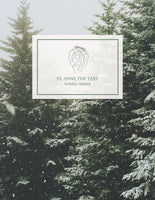 Christmas Cookie Cookbook
For centuries the comforting ritual of cookie baking and exchanging has been one of the sweetest ties that bind neighbors, friends, and community members together during the holiday season. It's­ the one time of the year when dozens of billowy sugar cookies laden with thick swoops of icing, gingerbread dusted with powdery sugar, and crispy biscotti for coffee-dipping are baked simply with a desire to share and to send a bit of our family roots into the home of another to let them know that they are loved.
Purchase the Cookbook
Since I was young, I have forged ways of making my dreams and ideas come to life. My passion and my purpose with every business start-up, published article, magazine deadline, workshop, piece of artwork, unforgettable party, and intimate gathering has been to remind others of the strength and resourcefulness we truly have within ourselves to do what we dream of, at any moment of our journey…. and to always, always create moments of nostalgia in our everyday lives.
XO, Megan