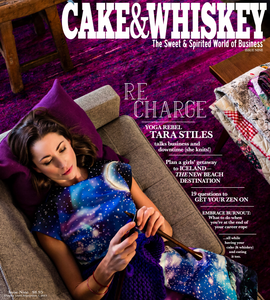 This product is a PDF digital download of issue #9 of CAKE&WHISKEY Magazine; the Recharge Issue, originally published in 2015. Once purchased, you will receive a link with access to the download.
In this Issue:
Squam Art Workshops
Girls Standing on Lawns; Museum of Modern Art
The Historians of the Philippines
Elspeth Beard; Renowned Architect who Circumnavigated the World Solo... on a Motorcycle.
Turning Yoga into a Global Brand; Tara Stiles
Dot – Rockstar Massage Therapist
Gouthami; Founder of Travel Another India which partners with rural communities to set up inclusive destinations and experiences that keep the hosts, guests, and mother Earth smiling
Sonia Gil; Entrepreneur and Travel vlogger, and Co-founder of Fluenz
Tena Clark; CEO/Chief Creative Officer for DMI Music & Media Solutions
Also… Legalities Around Having a Home Office, Getting Access to the U.S.'s Largest Consumer: The Federal Government, How to Set Your Speaking Fees
And…a recipe for Golden Vanilla Cake with Blackberries and a Mint Julep
About CAKE&WHISKEY
In 2012, CAKE&WHISKEY; The Sweet & Spirited World of Business began with a small group of women, gathering together to eat cake, drink whiskey, and talk shop. Eventually, those hobnobs would grow to 12 cities, and eventually, the first issue of CAKE&WHISKEY Magazine was released in 2013. The magazine eventually landed in every Barnes & Noble across the US and in the mailboxes and store shelves in 11 countries. Today, CAKE&WHISKEY hobnobs still happen, in cities from Baltimore to Greenville. The mission remains the same as it did on day one. 
The CAKE&WHISKEY woman is someone who exudes an inner passion for something beyond mediocre~ beyond the rules established in business and life. Who looks at obstacles as stepping stones and setbacks as learning curves.
She radiates inner beauty... poise, lightheartedness, and relatability. Whether toasting a dram of whiskey with clients or swapping stories with a girlfriend over a slice of cake, she feels comfortable in her own skin.
She is far more interested in another's story... than her own. Knowing that she will glean wisdom from everyone who crosses her path. Thriving off this insight, she is constantly fueled to reach farther and dream bigger.
She wears many hats... not because she's out to prove a point, but because her curiosity for life and limitless boundaries make her a better businesswoman, partner, colleague, mother, daughter, and friend.
She is a forever student... persistent in reaching the mark. Considering both failure and success as part of the course curriculum.
She's a creator... developing ideas that have enduring value. If it can be imagined, it can be created.
She's an explorer... who wants the freedom to experience and to help people differentiate themselves.
She's a warrior for causes... both empowered and sympathetic. Who accepts others on their journey, without judgment. She seeks to mentor, support, and champion~ never undercut or shame.
She's an original.