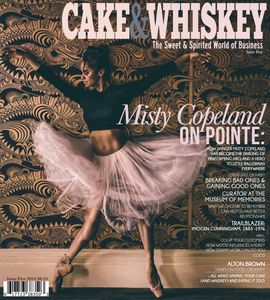 This product is a PDF digital download of issue #5 of CAKE&WHISKEY Magazine, originally published in the Spring of 2014. Once purchased, you will receive a link with access to the download.
In this Issue:
American ballet dancer, Misty Copeland
South African photographer Annie Kruyer
Sarah Green, a "Top 99 under 33 Foreign Policy Leader" and Social Entrepreneur
The Power of Habit: Why We Do What We Do in Life - Charles Duhigg 
Saya Hillman, founder of Mac and Cheese Productions
Trailblazing Photographer, Imogen Cunningham
Heather Howell Chief 'Tea' Officer of Rooibee Red Tea
TV Personality and Chef, Alton Brown
Russian Diver, Vera Sergeyevna Ilyina 
Also… Curating Memories for Better Relationships, Political Progress for Entrepreneurs, Free Legal Advice from an Entrepreneurial Attorney, Valuing Your Customers, the Myths of Confidence
And…a recipe for Jameson's Carrot Cake and a Blushing Bride
About CAKE&WHISKEY
In 2012, CAKE&WHISKEY; The Sweet & Spirited World of Business began with a small group of women, gathering together to eat cake, drink whiskey, and talk shop. Eventually, those hobnobs would grow to 12 cities, and eventually, the first issue of CAKE&WHISKEY Magazine was released in 2013. The magazine eventually landed in every Barnes & Noble across the US and in the mailboxes and store shelves in 11 countries. Today, CAKE&WHISKEY hobnobs still happen, in cities from Baltimore to Greenville. The mission remains the same as it did on day one. 
The CAKE&WHISKEY woman is someone who exudes an inner passion for something beyond mediocre~ beyond the rules established in business and life. Who looks at obstacles as stepping stones and setbacks as learning curves.
She radiates inner beauty... poise, lightheartedness, and relatability. Whether toasting a dram of whiskey with clients or swapping stories with a girlfriend over a slice of cake, she feels comfortable in her own skin.
She is far more interested in another's story... than her own. Knowing that she will glean wisdom from everyone who crosses her path. Thriving off this insight, she is constantly fueled to reach farther and dream bigger.
She wears many hats... not because she's out to prove a point, but because her curiosity for life and limitless boundaries make her a better businesswoman, partner, colleague, mother, daughter, and friend.
She is a forever student... persistent in reaching the mark. Considering both failure and success as part of the course curriculum.
She's a creator... developing ideas that have enduring value. If it can be imagined, it can be created.
She's an explorer... who wants the freedom to experience and to help people differentiate themselves.
She's a warrior for causes... both empowered and sympathetic. Who accepts others on their journey, without judgment. She seeks to mentor, support, and champion~ never undercut or shame.
She's an original.