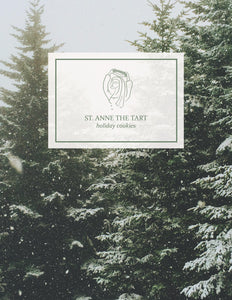 For centuries the comforting ritual of cookie baking and exchanging has been one of the sweetest ties that bind neighbors, friends, and community members together during the holiday season. It's­ the one time of the year when dozens of billowy sugar cookies laden with thick swoops of icing, gingerbread dusted with powdery sugar, and crispy biscotti for coffee-dipping are baked simply with a desire to share and to send a bit of our family roots into the home of another to let them know they are loved.
This 33-page cookie cookbook was curated around the idea of family stories. Recipe submissions came in from around the country, inclusive of many holiday celebrations. With each purchase, you'll receive a digital download, PDF version of this cookbook, complete with 12 cookie recipes (with photos), and thoughtfully written stories about each. 
*tip: If you'd like to print this PDF, I recommend using a company like UPS that will offer high-quality printing and even optional binding. Or simply print at home and use a 3-ring binder to store these recipes for use year after year.